This blog post title and its content has been swirling around in my head for weeks.  And yesterday, it became more clear and more final with the first visit to my Cleveland Clinic-based disease specialist since the pregnancy.  For a little background, see God's Plans.  It's not comprehensive, but the gist of it is that I have a nasty vascular disease that caused an ischemic stroke in 2006 and has resulted in several aneurysms and 8 interventional angiograms requiring repeated "fixes" and long-term damage to my renal and carotid arteries.  I guess the miracles began then…because here I sit typing.  And I'm a mom…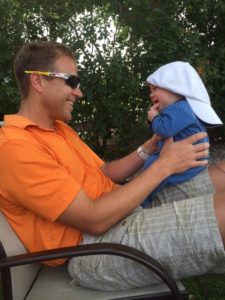 So we were on the way to church on Father's Day and I looked over at Eli, then back at Struthers in his carseat, and back at Eli.  "Can you believe we are actually headed to church on Father's Day with a kiddo in the backseat?  You know, those Mother's Day/Father's Day sermons we've struggled with for years are now a little more relevant instead of just inducing the pit-in-the-stomach sadness…" I trailed off.  "Yeah," Eli quietly said.
"What's wrong, hon?"
"Well," he began, "Did you realize that there was a 1 in 16 chance I'd walk out of that hospital without EITHER of you that day?  And a 1 in 4 that I'd walk out with just a son and no mom, or you and me with no son?"
"Hmmm…no." Silence.
"Well, just look at what doctors told you about the probability of dying or suffering a major 'morbidity event' during the pregnancy, and look at preemies born at his gestational weight.  There you have it…there was a one in four chance that we would not have the life we've dreamed of."
I joked about my "Numbers Guy" and mumbled something to the effect of, "Leave it to you to have figured that one out…", and I got real quiet.  I'm not sure I heard any of the Father's Day sermon that day, because my mind was spinning.  And it has continued spinning for weeks over this.
With each one of Struthers' appointments becoming more and more like real 'well-baby' visits, the specialist appointment frequency dropping off, and really with each little milestone my little one-pound miracle reaches developmentally, I become overwhelmed with the grace of it all, the Bigness of it all.  And yesterday, as Dr. Gornik told me that my scans looked nearly identical (to the 10th of millimeter) to those taken last May, after hugging me and proclaiming with relief that she was just so glad I was 'here',  I am again overwhelmed with the improbabilities of it.  Just over a year ago, I spent two full days in Cleveland being warned about those 'morbidity events' (as a best case scenario), and the words transplant, incapacitated and death were mentioned, and numbers and percentages were assigned to my greatest wish.  But after all that information was digested, we learned it was out of our control anyway.  And the miraculous pregnancy that wasn't supposed to be stressed my body, my vessels, my organs to the max…so much so that my body used the organ created to sustain my child to keep me alive too.  And for all of that, my vessels are functioning just as they were before all this and my kidney function is back to normal?  Amazing.  Overwhelming.
I think that I'm just now dealing with the emotions of it all, and I'm still sad over experiences lost.  But the way I figure it, the day I stop processing is probably the day I stop growing and learning and leaning and depending on the One who's truly pulled us through all this–according to His timing and plan.  So who am I to play the numbers game and wonder what if?  Today, I'm just overwhelmed with wonder and gratitude and an ever-increasing sense that God is doing something even bigger with us than we have seen yet.